If you are marimba group, please fill in this form today about Sunday's performance!
Chisnallwood is proud to be part of Christchurch's annual all-percussion showcase concert "Re-Percussion 2017"!
Over 100 performers and music from around the globe. Run by (and featuring) Pandemonium Percussion alongside school, community and other professional groups.
When: Dec 10th, 7.30pm
Where: Hillview School, 150 Wilsons Road, St Martins, Christchurch
Tickets:
Free for performers
Door sales for general public
Adult: $20.00
Senior: $15.00
Student: $5.00
Family (2+2): $40.00
Marimba is Friday 8am-8.35
We work towards Strum Strike and Blow and RePercussion as well as other performances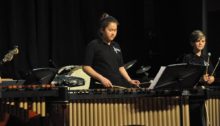 The Marimba groups performed at the annual RePercussion concert.
Groups ranging from West African drummers to award-winning marimba solos, high school groups and professionals all took part in the re-Percussion concert on Sunday night. This is run by the group Pandemonium who ended the evening with fantastic songs using steel drums. Here are some photos of our group.