"Take it Away" Original by Dylan Jonkers performed by "Class Disruption".
Filmed and recorded at Orange Studio as part of the Bandquest 2017 national 1st place prize.
Class Disruption from Chisnallwood Intermediate
Dylan Jonkers (bass/vocals)
Sho Woodhouse (drums)
Jacob Carey (guitar)
Hiromu Crosado (keys)
Sho, Leni, Abby, Dylan, Grace, Hiromu, William and Lena perform at Re-Percussion 2017.

SOLOISTS 2017 Chisnallwood Jazz CD
01 Memory Blues – Dylan (vocals), Sam (alto 1), Izzy (Alto 2), Dylan (trombone), William (trombone 2), Amelia (trumpet), Hiromu (Keys)
02 Bye Bye Blackbird – Hiromu (piano solo)
03 Green Onions – Sax soli, Amelia (trumpet), William (trom), Sarah (bari)
04 Reunion Blues – Trumpet soli, Leni (trom 3), Lena (trumpet), Dylan (bass)
05 Soul Bossa Nova – Dylan (trombone solo)
06 Big Band Theory – Dylan and Lena (Trombone and trumpet)
07 Oye Coma Va – Daniel P (trumpet), Hiromu (keys), Sam (Alto 1), Amelia (trumpet)
08 Knock on Wood – Dylan (vocals)
09 St Thomas (combo) – Lena (trumpet)
10 Cantaloupe Island (combo) – Dylan (trombone), Hiromu (keys), Sho (drums)
Tracks 1-8 recorded at Orange Studio, tracks 9-10 recorded at Chisnallwood
2017 Chisnallwood Orchestra student recording project
The Mozart sonata features Hiromu Crosado (year 7) on piano with the school all-comers orchestra accompanying (arrangement by Judith Bell). Because some students were away on recording day, Hiromu Crosado and Daniel Sinclair recorded the extra parts into Garageband over the following few days so that no-one missed out.
ORCHESTRA  FESTIVAL PHOTOS
Taster Day performance at school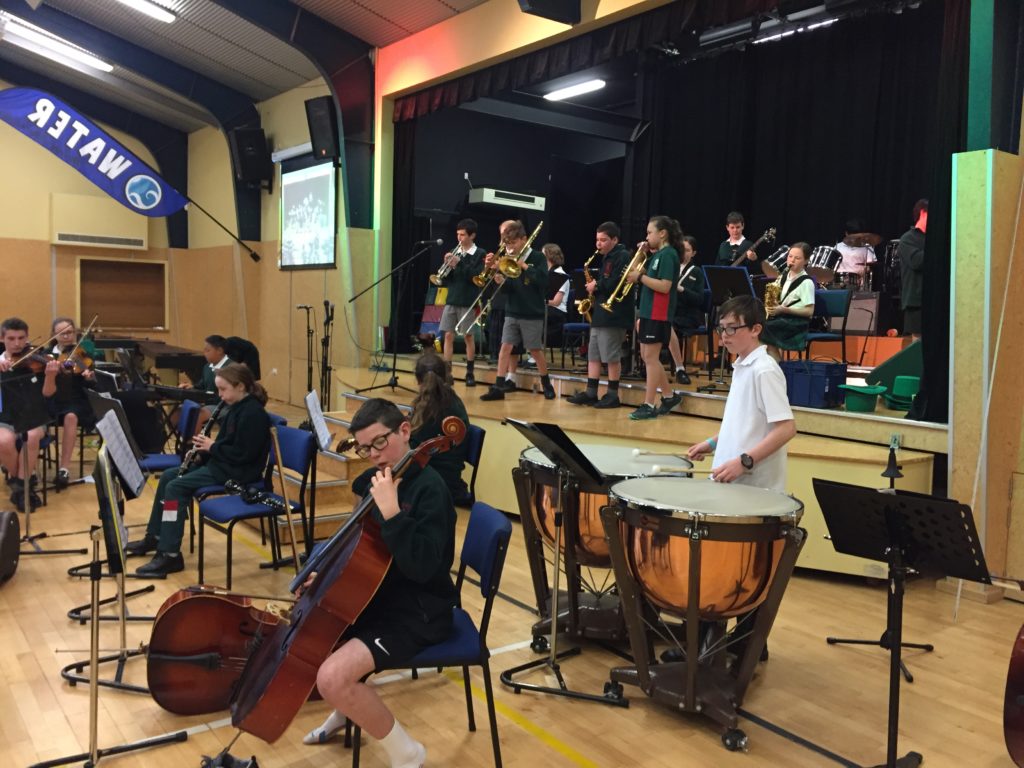 The day we tried to take some sectional photos…