"Take it Away" Original by Dylan Jonkers performed by "Class Disruption".
Filmed and recorded at Orange Studio as part of the Bandquest 2017 national 1st place prize.
Class Disruption from Chisnallwood Intermediate
Dylan Jonkers (bass/vocals)
Sho Woodhouse (drums)
Jacob Carey (guitar)
Hiromu Crosado (keys)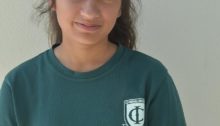 Hineata Purdon recently scored merit in her digital piano exam, Grade one with St Cecilia.
Sho Woodhouse has passed grade seven drums!
If you are in a music group or are learning an instrument at school please fill this in!
Thanks