This page shares some examples using music technology to research, create and share learning as part of other curriculum areas.
Students has the choice of which "thinking" areas they could use: Musical/Rhythmic, Interpersonal, intrapersonal, bodily/ kinaesthetic, verbal/linguistic, logical/ mathematical, visual/spacial, naturalist.
CARNIVAL OF THE RAINFOREST ANIMALS
Creating, using knowledge learnt in the cross-curricular topic "RainForests"
Based on the idea of Carnival of the Animals, a suite composed to represent different RainForest Animals using "Sibelius". Animals are cat family, bird, monkey and frog. Musicianship involved in choosing musical elements such as rhythm, melodic shape and timbre to represent characteristics of the different animals.
BOOK SYNOPSIS – BODIGULPA
Reading, comprehension, retelling, creating
Class project: to present a synopsis of a book they read. The music option for this was to represent the changing mood scenes with music.
Andrew chose to use a keyboard and to record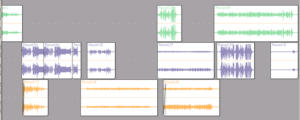 POILTICS
Politics, marketing, creating
Class was studying politics at the time of elections. The student was in a class group representing Labour and chose to write a radio advertisement as part of their election campaign.
SLIP, SLOP, SLAP
Creating, health
Class studying sun health. Two students chose to write a sun protection campaign advertisement called Slip Slop Slap. They wrote the lyrics, melody and chords away from the computer. They then chose drum tracks from garage band and recorded acoustic guitar, vocals and bass on top. They then experimented with effects and harmonies.
GET THE WORD STUCK IN YOUR HEAD
Accounting, Marketing, Creating
Class Project: Each student was loaned $5 to see how much profit they could make off it in four weeks. At the end of the time they had to give back $5, hand in an account sheet and explain to the class how they made their money.
The student chose to make CDs with his friend of Bible verses set to music and sell them to church, family and friends. They used "Band in a Box" to create the backings then recorded and added vocals. The project was one of the top earners in the class!