Burnside High Visit
It was great to have Burnside High School outstanding music groups at Chisnallwood today. We saw their Big Band, their senior chorale, a guitar/vocal duo and a string trio. It was great to see lots of ex-Chisnallwood students among the performers.
Anyone interested in auditioning for their Specialist Music Programme can visit specialistmusicprogramme.co.nz  or pick up a brochure from Mrs Bell. They also have their Open Night next Tuesday. There are two rounds of auditioning – the first closes tomorrow, and the next one on July 22nd.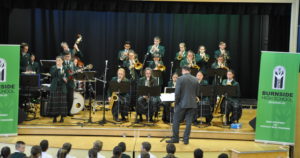 Coming up:
Today at 1.25pm Chisnallwood Jazz Band in Open Rehearsal with Rodger Fox at Aranui Library as part of NZ Music Month.
Thursday 19th May 
6.30pm Family Rock Night in the music room
Friday 20 May
1.30pm Rock Bands at Aranui Library
Saturday 21st May
2.30pm Our Jazz Band are the guest performers at the Accordion Society Concert held at the Salvation Army, 250 Colombo Street
4.30pm Four of our rock bands will be performing at RockQuest at the start of the 4.30pm session. This will be at the Aurora Centre at Burnside High. Our bands performing are Broken Jandal, 82 Beats, Wild Zodiacs and @nonymous. The order of their performance times will be posted on the Rockband page as soon as they are confirmed.We also have a duo, The Semitones entering the online category and duo Double Chocolate entering Pasifica Beats in early July.
Computer Music – Do you have something you'd like to advertise on the Chissy Radio Station?
Computer Music starts next week as part of Leisure Ed. Students will be composing ads for the school radio station, so if you have any ads you'd like made, please fill in the form at https://chisnallwoodmusic.org.nz/chissy-radio-ads/ 
Students taking computer music are encouraged to bring their own headphones.

House Sing-off May 27th
A reminder that "We are Aotearoa" the 2016 Hook Line and Singalong song can be found at hooklineandsingalong.com/2016-2 
Studio Tour this weekend
The free STUDIO TOUR on May 15 at Orange Studio in Ferrymead is now offering a second session as the first one is fully booked. This is run as part of NZ Music Month. There are both adult and junior tours. Booking is at orangestudio.co.nz/shows/