2013
Practices are Wednesday lunchtimes. All welcome.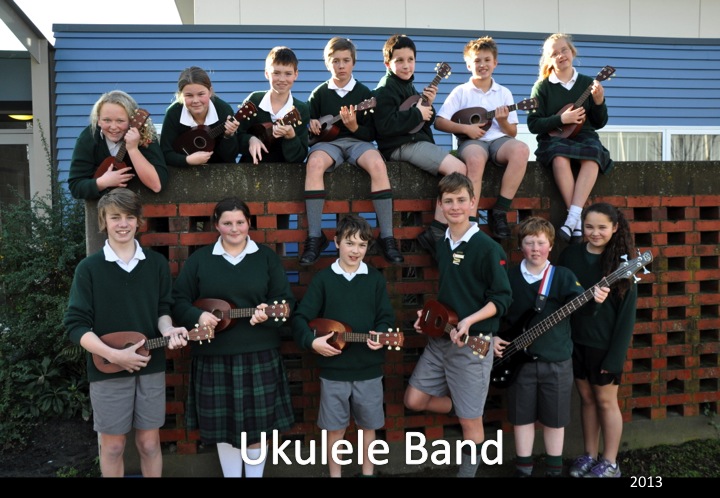 ---
Well done to the Ukes, marimba and recorders who were part of Strum Strike and Blow at the CBS arena in September!
Well done to the Uke band who played at the Cultural Festival at the CBS Arena on Thursday afternoon 29th August in the 12.30pm concert along with Chisnallwood's RTK and Pasifika groups.
Well done to the Uke players who played at the ChCh Schools' Festival: Travis, James, Aiyana, Claudia, Liam, Norbert
---
KIWILELE FESTIVAL
Rehearsal Notes for Kiwileles:
2013 Kiwileles Rehearsal Notes.pdf
Here is a link to the KIWILELE website where we are going on Nov 30th!
BYO lunch, drink, ukulele (can be a school uke), music book, money for dinner (Aotea Square). There will also be merchandise and food stands at the festival.
Please have an early night on Friday night.
Schedule for the 30th November:
6.15am (no later) report at the airport
6.55am fight departs NZ504
8.15am arrive in Auckland
travel by rental van to SKYCITY
9.15am-10.30 SKYCITY
10.30am travel to TRUSTS STADIUM
11am-4pm KIWILELE FESTIVAL
4pm travel into town
5pm look around waterfront
6pm tea at AOTEA SQUARE
7.30pm head back to the airport
9.30 flight to CHCH NZ599
10.50pm arrive ChCh
---
OLD STUFF……
July 3rd Open Night
Sept 18 CBS Arena day rehearsal plus performance 7pm-8.30pm
Nov 30 Auckland day trip to play at Kiwilele Festival
Gig: May 8th 2pm at Aranui Library!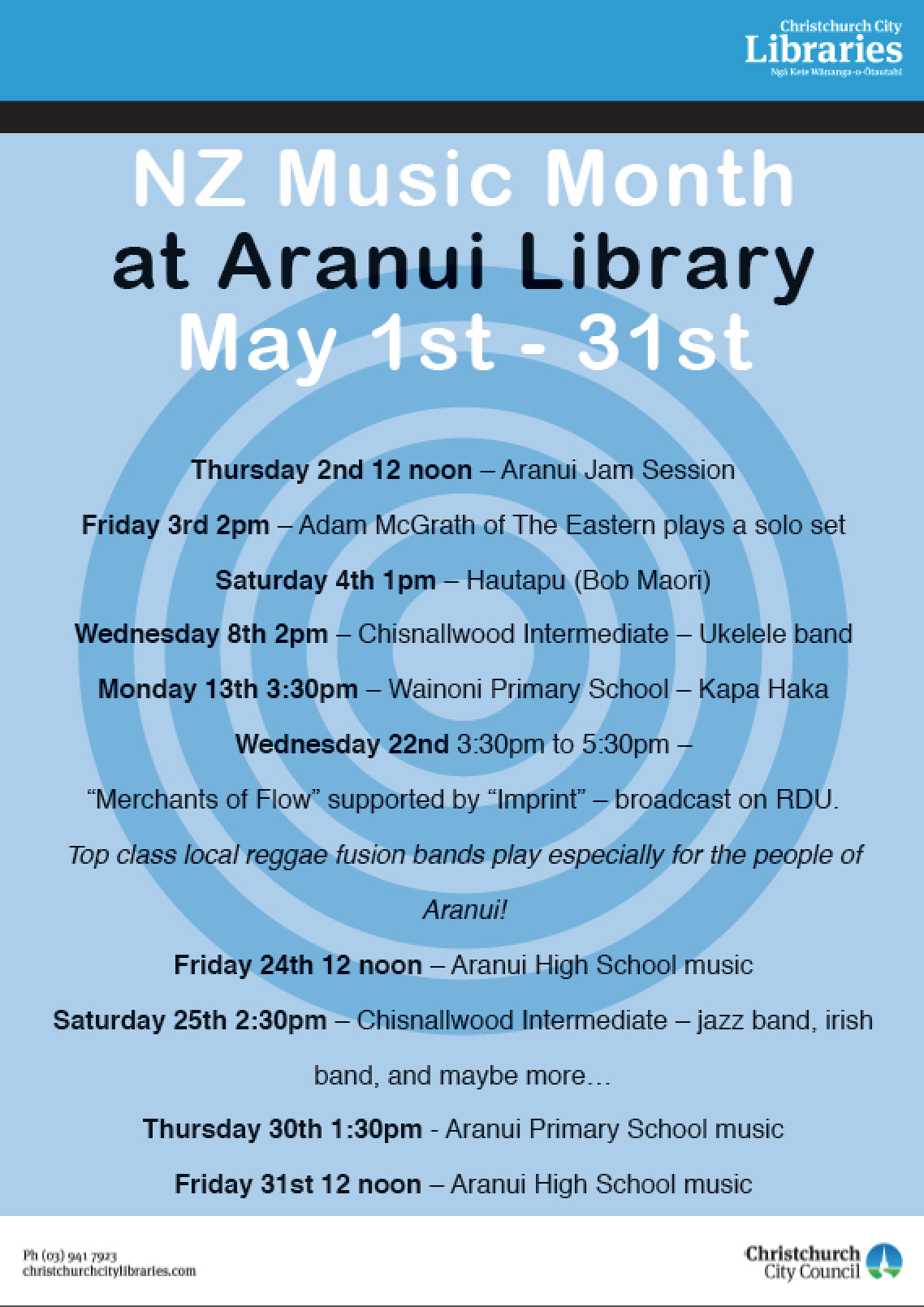 Aranui_Music_Month (2) (1).pdf
---
The Ukulele Band has been invited to perform at a Variety Concert.
Details are:
Sunday 7th April
2pm
St Margaret's Church, Farrington Ave, Bishopdale
We would need to arrive no later than 1.30pm
Band members will wear the school Ukulele Band t-shirts (to be issued) and dark trousers.
Pieces:
L'Aute
In the Jungle
I'm a believer
That's Aotearoa
Students can join ChisnallwoodMusicBackstage to find rehearsal music and recordings.
UKULELE BAND permission April 7.pdf You can download the permission form here and return it to school, or fill in the form below.
---
---
2012
Photos from CHCH Uke Fest, Dec 8th

---
Practices are on Wednesdays at lunchtime 1.10-1.40pm
The songs we will play on the Dec 8th are:
God Defend NZ




L' Aute




Tutira Mai




Ukulele Boogie (12 bar blues)




Mali mali mai




Nga Iw E




Medley of Trad American Songs




Wiegenlied




That's Aotearoa




Rock that Uke




You can do it




Build it for the Children




Don't forget your roots




Stand Up




Plus "Come on Home"


Details of the festival can be found here: https://sites.google.com/site/chchukefest/
You can find the music and sound tracks are on the backstage wiki (You'll need to join)
Press article and photo about April 2nd performance (or click on the photo).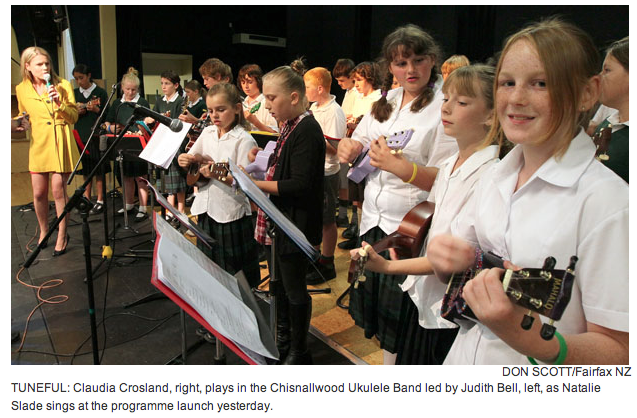 We learnt "Build it for the Children" and performed this with the composer, Natalie Slade and other schools such as Westburn, South New Brighton, St Andrew's and Ruldoph Steiner as part of the Opening of the ChCh Festival of Flowers! We also played "Stand Up" by the Feelers led by Lorne Joblin with Jackson Roche on the drums. Archery Lawn in Hagley Park, 6.30pm Friday 17th February. You will find details here: https://sites.google.com/site/fofopening/home
Music for our uke songs can be found at ChisnallwoodMusicBackstage but uke players have to join to be able to access this. Please say who you are when you request permission to join.
Nalalie Slade (the singer/composer) will be at our lunchtime practice this Wednesday lunchtime! (15th Feb)
---
2011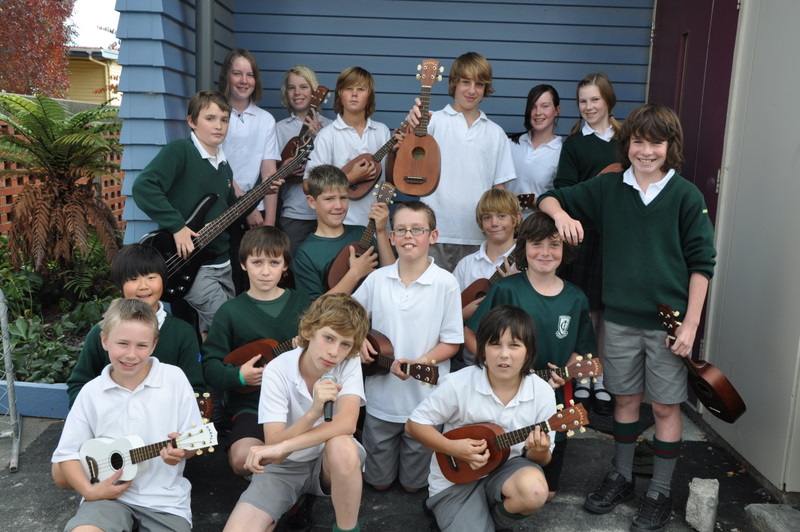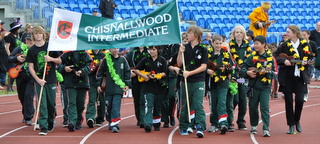 Click here for photos of Kiwilele
Here is a list of the ukulele players going to Auckland KIWILELE FESTIVAL on Nov 26:
Ashton Moore, Teresa Shields, Jordan Hutton-Marshall, Gemma Scottorn, Tristen Read, Luke Brennan, Ben Brennan, Hamish Smith, Shannon O'Connell-Inns, Gianni Ruffino, Kane Greenfield, Liam Murray, John Pierre, Changyu Choi, Lorne Joblin, Ariana McNabb. Adults: Mrs Bell, Mr Bell, Mr McNabb, Mrs Pierre
NZ Ukulele Festival
24 November 2011
Dear Parents and Caregivers
We are only a few days away from our exciting trip to Auckland to represent Chisnallwood Intermediate in the biggest ukulele orchestra in the world!
This letter will give you all the information about what your child needs to bring, the plan for the day, and contact details if you need to call us.
What to bring/wear
Your Chisnallwood t-shirt (black)

Chisnallwood tracksuit pants and jacket (issued by school). THESE NEED TO BE BACK BY MONDAY MORNING as the athletics team get them that day!

Black PE shorts (in case it gets hot)

Ukulele

Music book and pegs

Sunhat and sunblock

Shoes suitable for walking (PE shoes)

A packed lunch including water bottle

Money for dinner ($10)

Your backpack or carry-on bag needs to be as small as you can
Details for the day
Children need to be at Christchurch Airport at 7:15am. Our flight leaves at 8:05am and we need to be checked in by 7.30am and boarded in time so please don't be late. We fly straight to Auckland and arrive at 9:25am.
We travel by coach to Trusts Stadium in Waitakere, where we will set up a gazebo and base ourselves for the day. Students will be able to have their lunch and prepare themselves for the opening ceremony at 12pm and the parade at 1pm. The festival finishes at 4pm where we will make our way back to Auckland Airport to have dinner and fly home. There is a food court there with the usual takeaways such as McDonald's, BK etc.
We catch Air New Zealand flight 557 at 6:30pm and arrive back in Christchurch at 7:50pm.
Contact Details
If for any reason you need to contact us during the day, please call Judith Bell or Ben McNabb (phone numbers on the letter which has gone home)
This should be an amazing festival and experience for all concerned. We are looking forward to it.
Judith Bell
Ben McNabb
Newsletter #1 Information for 2011 Kiwileles.pdf
2011 Kiwileles Seating.pdf
Newsletter #3 Information for 2011 Kiwileles.pdf
---
Upcoming gigs:
Saturday November 5th 1pm Marimba Festival at St Andrew's College

with marimba group (wear dark trousers and either the school music top or a mufti top – the marimba players are wearing hot pink)

School concerts 10am Mon, Tues, Wed Nov 7th, 8th and 9th.

Saturday November 26th Auckland Kiwilele festivalPlease note that some music information about this can be found on the backstage wiki

Sunday December 11th 6pm Re-Percussion Concert at Cashmere High School with marimba group
---
OLD STUFF………….
Here are some photos from the Uke festival day July 9th
Upcoming performances:
Open Night JUNE 29th 6-8pm
End of Term Concert for Chisnallwood families JULY 11th (TBC)
ChCh Schools' Ukulele Festival JULY 9th 1.30 – 3.30pm
Checkout the backstage wiki to find help for the new uke songs!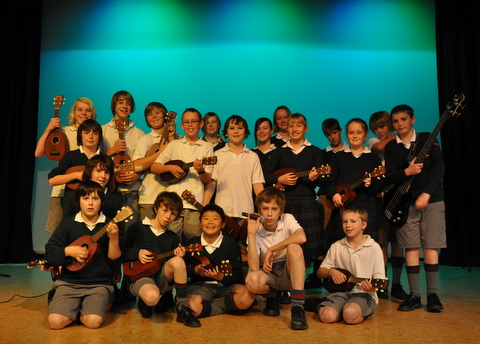 After an assembly performance
2010
Next Term 4 performance
Thursday Nov 25th 9.40am – contributing schools' concert
Itinerant Rock Night Dec 2nd
PAST EVENTS
Wed Sep 1st at the Town Hall as part of the Cultural Festival Matinee. 12.30 – 2.30pm. Click here to view photos of the Ukulele Band performing at the Cultural Festival!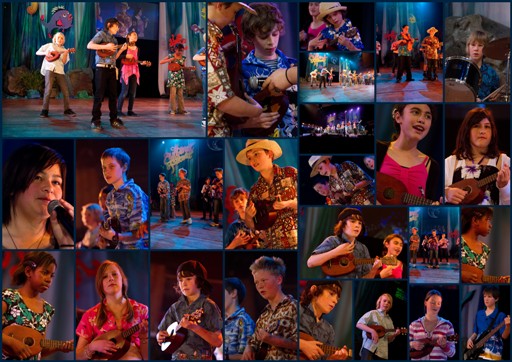 Ukulele Band @ the Cultural Festival 2010
A few members of the uke group performed on Monday Sept 6th at Under 5s concert at the ChCh Music Centre. 10am.

Aug 23rd – combined concert with Windsor 7pm – all members

Kids in Town: Chisnallwood Ukulele Band and Chisnallwood Pasifika Group Thursday 24th June 2010 at the ChCh Art Gallery 12.30pm
Click here for photos of the event! https://chisnallwoodintermediateschool.wikispaces.com/Kids+in+Town
http://bethere.co.nz/community/2010/817-kids-town

Here is a clip of the Ukulele Band playing April Sun in Cuba at Chartfest on Friday May 28th 2010.

This is the winning group from Roncalli with "Apple Pie Bed"
Here is a link to the TV1 news TVNZ news May 28 2010
Here is a link to TV3 news TV3 May 28 2010
Press article "Why do Ukuleles Do this to Them" Press 25May2010
Press article "Ukuleles enthusiasts short of mark" Press 29May2010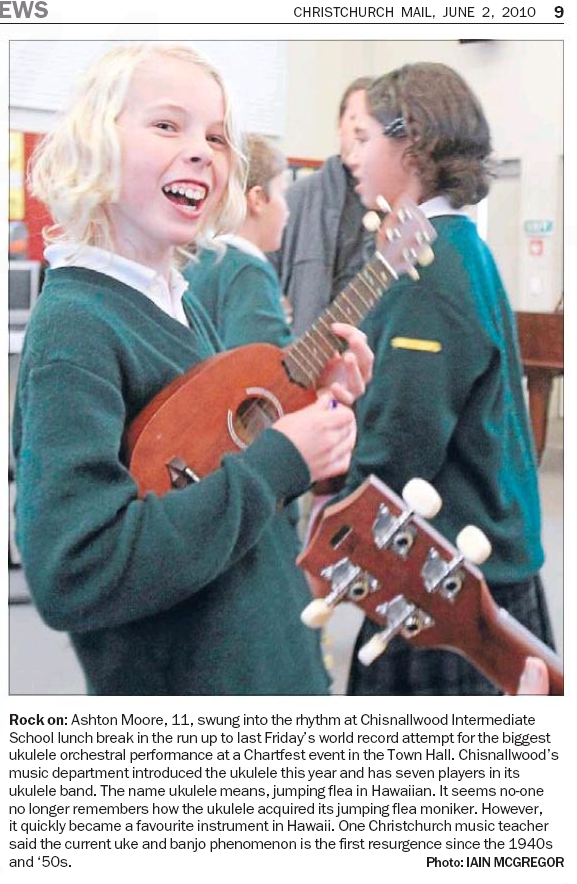 CHARTFEST photos and more.. CHARTFEST 2010