2018 Jazz Band and Jazz Combo.
Most of these tracks were recorded live at Little Andromeda at the "Bands of Chisnallwood" night.
Big Band members 2018:
Isla Fisher Sax Alto 1, Rosa Jugovac Sax Alto 2, Shelby Allan Sax Alto 2, Laura Powley Sax Tenor 1, Izobella Payne Sax Tenor 2, Sarah McCaffery Bari Sax, Amelia Goomes trumpet 1, Alexus  Masiu trumpet 2, Bradley Mutch clarinet, William Kao trombone 1, Leni Smith trombone 2, Josh Hardy Trombone 3, Heinrich  Muller Vocals/Trombone, Hiromu Crosado piano, Ryan Scammell guitar, Daniel Sinclair Bass, Niko Tudor- Oakley Drums, Josh Murray Percussion, Lucas Smith Percussion
Jazz Combo members 2018:
Amelia Goomes trumpet, Sarah McCaffery Tenor Sax, William Kao Trombone, Hiromu Crosado Piano, Daniel Sinclair Bass, Niko Tudor-Oakley drums
Track List
Billie Jean by Michael Jackson arr. John Berry
Splanky by Neal Hefti arr Roy Phillipe. Soloists Hiromu Crosado, Amelia Goomes, William Kao
The Nearness of You by Hoagy Carmichael arr Mark Taylor. Soloist Amelia Goomes
Bari'ed Alive by Erik Sherburne Soloist: Sarah McCaffery
Charade by Henry Mancini arr Mark Taylor Soloist: William Kao
Sing Sing Sing by Louis Prima Arr Victor Lopez Soloists: Niko Tudor-Oakley, Laura Powley, Amelia Goomes, William Kao, Hiromu Crosado
Jingle Bells by J Pierpont arr Rick Stitzel Soloist: William Kao
Feliz Navidad byJosé Feliciano Soloist Heinrich Muller
Never Enough Brass by William Kao Soloists, Ryan Scammell, Amelia Goomes, William Kao, Hiromu Crosado
Georgia byHoagy Carmichael and Stuart Gorrell (Combo)
Bag's' Groove by Milt Jackson
Charade take 2
Bari'ed Alive take 2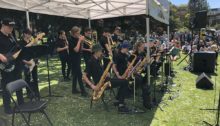 Congratulations to our Jazz Band who played at 4 events over the Labour Weekend Festival!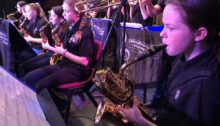 Congratulations on the Chisnallwood Jazz Big Band earning GOLD at the high school JazzQuest event in the weekend!