https://nz.abrsm.org/en/theory2018/music-theory-2018-quiz/
Here's a good way to practice your terms for Grades 1-5
Theory Club starts on Friday Feb 9th 2018.
This club is free to be part of. The only cost is the theory book (approx $14) and a donation of a packet of biscuits once a term. Sitting theory exams (ABRSM) is an additional extra option.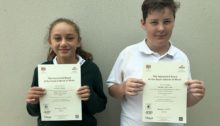 Congratulations to Daniel Sinclair and Alexus Masiu who gained distinction in their recent theory exams!