Sho, Leni, Abby, Dylan, Grace, Hiromu, William and Lena perform at Re-Percussion 2017.
Class Disruption's Bandquest video for "Take It Away"
Made by Orange Studio
Congratulations to the band. A wonderful prize due to winning Bandquest 2017.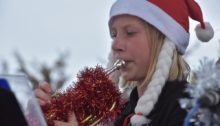 If you are marimba group, please fill in this form today about Sunday's performance!
Chisnallwood is proud to be part of Christchurch's annual all-percussion showcase concert "Re-Percussion 2017"!
Over 100 performers and music from around the globe. Run by (and featuring) Pandemonium Percussion alongside school, community and other professional groups.
When: Dec 10th, 7.30pm
Where: Hillview School, 150 Wilsons Road, St Martins, Christchurch
Tickets:
Free for performers
Door sales for general public
Adult: $20.00
Senior: $15.00
Student: $5.00
Family (2+2): $40.00