BILLETS
Have you got spare beds or mattresses at your house? Wouldn't it be great to meet students from the top of the north island? We need billet families on March 31 and April 1st.
We are looking forward to the NZ Ukulele Trust Development Squad visiting Chisnallwood on March 31 and April 1st. They will be performing for our students on Friday morning, and performing at Orange Studio on Friday evening. Please support them! You can get tickets from http://orangestudio.co.nz/show/nz-uke-squad-2016 – or if you have billets, you get FREE tickets!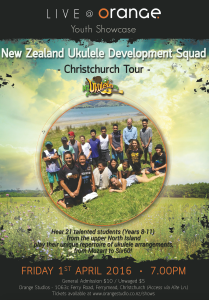 WORKSHOP on PRACTICE
Please note that the previously advertised workshop on March 31 on Learning Strategies for Musical Success is cancelled due to the presenter not coming to NZ anymore. Apologies for any inconvenience.
GROUPS
If students wish to do COMPUTER MUSIC for Leisure Ed next term, please sign up on the sheet outside the music office and you can also sign up on the music website. Limited numbers so be in! This runs for the full 12 weeks and students get the opportunity to learn to use music software, create ads and music for the school radio station as well as other music projects.
Calling all recorder and flute players – please see Mrs Bell about learning 6 pieces for Strum Strike and Blow Festival!
Calling all guitar and ukulele players – we need you on Wednesdays at lunchtime!
In the school holidays we will be holding a sound tech training day, a jazz band day, and rock rehearsals (one per band).
PLEASE NOTE THAT APPLICATIONS FOR AUDITIONS ARE OPEN FOR SPECIAL GROUPS FOR THE SCHOOL'S MUSIC FESTIVAL.
Applications close on April 15th (end of term). If you want to apply to be part of the Festival Senior Choir, Orchestra or Concert Band, you will need to ask for the school code from Mrs Bell and fill in the form on musicfestival.school.nz

Did you know there is a Facebook group for ex-Chisnallwood music students? If you have brothers or sisters or friends who played music at Chisnallwood in the past, please tell them to find the group and join (if they're on Facebook)!